We offer bass lessons that can be taken from anywhere in the world!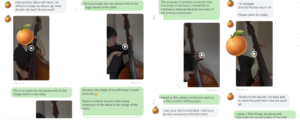 – You can get feedback on your daily practice.
– You can make your practice during spare time more precise.
– Perfect for those who have an irregular schedule and find it difficult to take regular lessons.

We have the perfect lesson for you, called "FlexTime Lesson."
What is "FlexTime Lesson"?
With FlexTime Lesson, you can take lessons anytime during your spare time! Here's how it works.

1. You work on practice exercises and assignments proposed by the instructor and post practice videos on a shared timeline
(via platforms like FB Messenger, WhatsApp, LINE, etc.)
2. The instructor provides feedback using videos and text.
3. You watch the feedback and continue practicing or ask questions.
This cycle is repeated without the need to synchronize schedules with the instructor. You simply practice and post during your spare time! Additionally, receiving daily feedback allows you to maintain an efficient and correct practice routine.However, since it may be difficult to imagine what it's like, please take a look at the actual lessons with students.
Lesson Exchange:
The instructor provides lectures in the form of video and text.
By sending videos to messaging apps such as WeChat, Facebook, WhatsApp, and LINE, you can save the videos and review them anytime.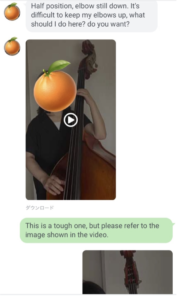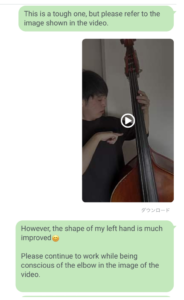 I provide feedback on their daily practice, ensuring that they don't go in the wrong direction in their daily exercises.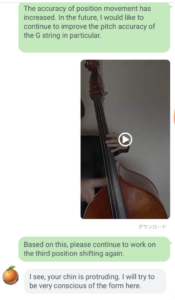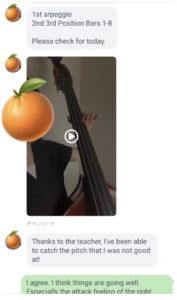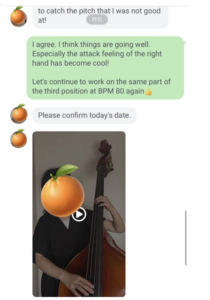 We engage in discussions where I address any detailed questions that arise during practice sessions.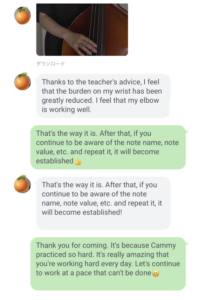 This is how the lessons proceed, with continuous interaction between the instructor and the students.
Target country
All over the world.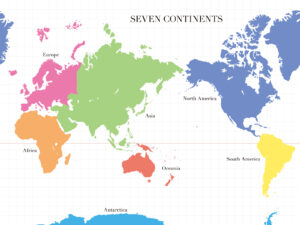 Language
English.
The teacher has studied English in the United States for one year.
Target audience:
– Beginners of upright bass and electric bass
– Those who want to review their daily foundational practice
– Those who want to learn walking bass, improvisation, music theory, and more
Benefits:
– You can review videos and comments anytime
– You receive feedback on your daily practice and progress
– You get a response from the instructor within 24 hours regarding practice or questions
Recommended for individuals who:
– Want to continue practicing daily, even for short periods
– Want to improve within a short period
Lesson fee: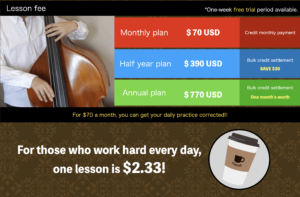 (All prices include tax, and there are no additional fees for optional services)
We recommend credit card payment as the preferred method. Detailed information will be provided after applying.
*The first 7 days are a free trial period. "
IIf you feel that you can not make it in time, there is no problem even if you withdraw during the free period.
If you practice every day, it would cost you approximately 232 yen per day! That's equivalent to the price of one cup of coffee, and you can receive lessons for that amount. It's a great investment in your learning journey!
All you need is:
A smartphone
A bass
Message app accounts such as WhatsApp, Facebook, WeChat, Line, etc.
For those who find it difficult to play their amp at home, I recommend the "GO:MIXER," a portable mixer that can be connected to your smartphone. It's a great option!
profile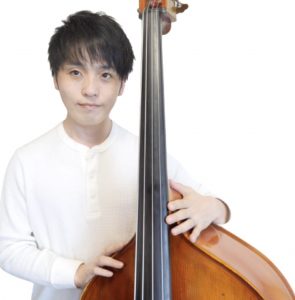 Toru Hoshino from Japan.
I was born on January 13, 1982. I am a bass player and bass instructor. I have 10,000 subscribers on YouTube. I have trained in session playing in the jazz mecca of New York and have participated in over 1,000 jam sessions domestically.
When I first started playing the upright bass, I felt lost and spent my days in confusion after blindly purchasing instructional books. In order to assist individuals facing similar challenges, I have designed these lessons. The curriculum focuses on efficient and effective practice methods to master skills, which will not only benefit your daily playing and sessions but also contribute to the joy of music and personal growth that comes with improving on the instrument. My goal is to provide this assistance to all of you through these lessons.
Application form
Inquily